The Catch
Boss Fish Friday
Here you will find a weekly thread of top tip sheets on how to find and net specific Boss Fish. Boss Fish in The Catch: Carp & Coarse are notorious for being a challenge. You will need all your skill to land one of these monster fish. Bait, Rig, Location & Time of day all play a big factor in how to successfully catch these Boss fish.
(13.11.2020) This week we are kicking things off with The Bull on River Ebro! The Bull along with The Matador are a couple of the hardest fish to catch in the game, which is exactly why we are starting with it.
(20.11.2020) Today's Boss Fish is Blingo on Pearl Lake. Don't let Blingo's shiny scales fool you, this fish won't go down without a fight. Blingo can be found allover the lake so you'll need to make sure you have the right equipment.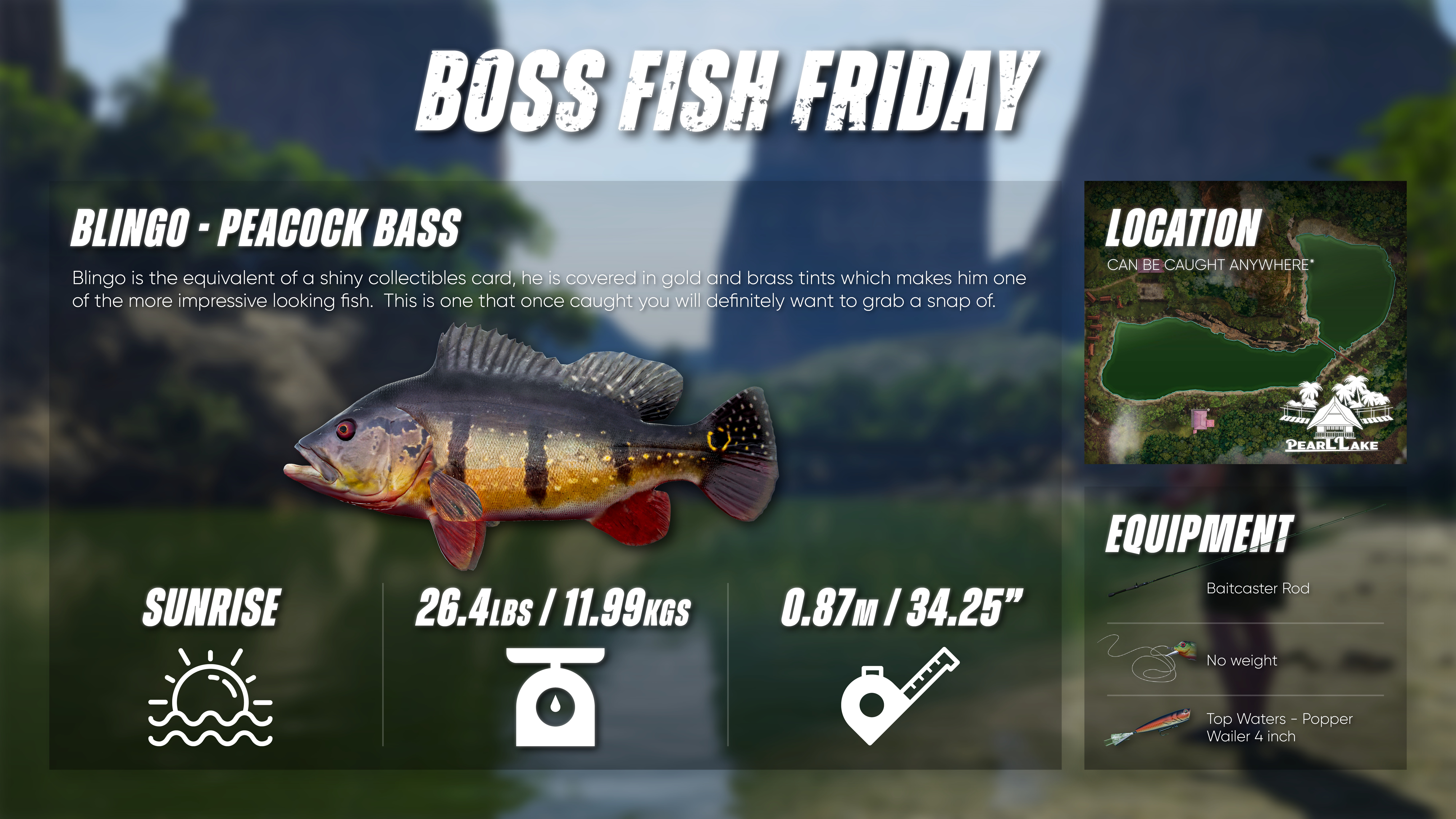 (27.11.2020) This Friday we are taking a closer look at Stoorworm the Northern Pike on Loch Mickle. Stoorworm is often seen around the most southern part of the Loch. Be careful though, this Northern Pike packs a punch and will be sure to challenge your skill.
(04.12.2020) For this week's Boss Fish Friday, we are going back to River Ebro and looking at the hardest fish to catch in the game, The Matador. To catch this Boss, you'll need to hop on a boat as The Matador is a touch out of reach from the bank.
(11.12.2020) Today we are looking at The Unicorn on Loch Mickle. This Arctic Char is sure to give you a run for your money once you get it on the line, and you'll know you've caught it once you spot that hooked bottom lip.
(18.12.2020) This week's Boss Fish is Alice the Mirror Carp on Oxlease. One of the harder to catch Mirror Carp in the game, this one will have you smiling from ear to ear when you catch her.
(25.12.2020) Our Christmasy Boss Fish Friday is Burns on Loch Mickle. This Brown Trout is the biggest bully on the loch, will you catch him?
(01.01.2021) New year, new Boss fish. Today we are looking at Wiktoria on Jezioro Bestii. This one is up there as one of our favourite looking fish and is definitely one for the photo album.
(08.01.2021) This week you'll need to put your crime fighting hat on and try to catch the biggest criminal on Rotterdam – Outlaw.
(15.01.2021) Today's Boss Fish is Little Hog on Loch Mickle. This muscular chub will not be caught without a fight.
(22.01.2021) Today we head over to Oxlease to take a closer look at The Tiger. This Ghost Carp has no relation to its feline friends, but it sure fights like one.
The Catch
2 Dec
Boss Fish Friday
The Catch
5d
Publisher Weekend Steam Sale - The Catch: Carp and Coarse
The Catch
5 Jan
Dovetail Fishing Discord
Dovetail Live
9 Dec
Dovetail Live Update
The Catch
7 Sep
September Dovetail Fishing League
The Catch
27 Aug
Lake Beasts equipment pack is out now!
The Catch
4 Aug
The Catch Online Leagues - July Angler of the Month
The Catch
30 Jul
Get to know Claudia Darga
The Catch
30 Jul
Jezioro Bestii available now for The Catch: Carp & Coarse
The Catch
27 Jul
The Catch Online Leagues - July Week 4
The Catch
21 Jul
The Catch Online Leagues - July Week 3
The Catch
16 Jul
Get to know Rob Hughes
The Catch
14 Jul
The Catch: Carp & Coarse Update Out Now
The Catch
13 Jul
The Catch Online Leagues - July Week 2
The Catch
9 Jul
Get to know Ian Russell
The Catch
6 Jul
Online Leagues in The Catch: Carp & Coarse
The Catch
30 Jun
The Catch: Carp & Coarse Out Now
The Catch
9 Jun
The Catch: Carp & Coarse Gameplay Reveal
The Catch
3 Jun
Dave Levy - The Last of the Kings Part 3
Fishing Sim World
27 May
Dave Levy - The Last of the Kings Part 2
The Catch
20 May
Dave Levy - The Last of the Kings Part 1
The Catch
19 May
The Catch's Guide to Rotterdam
The Catch
15 May
The Catch: Carp & Coarse Manuals
The Catch
13 May
Get to know Marc Voosen