Bassmaster Fishing 2022
Scott Martin in-game - Bassmaster® Fishing 2022
Over the course of the coming weeks, we'll be sharing our progress on more of our pro anglers, but we thought it only appropriate to start with Scott.
Bringing Scott Martin to life in our game is an exciting challenge for the team at Dovetail Games, as this will be the first time you can play as or compete against in game pros on the water. Whilst these images are absolutely work-in-progress in our pre-alpha builds, we wanted to share with you the process of building a character within Bassmaster® Fishing 2022. We hope you enjoy!
The team must first take reference images of Scott Martin and identify key features to make the 3D model look as good as possible - facial hair, eye position, ear height, body shape, jawline - these are just a handful of things we take into consideration when modelling an angler.
3D Modelling Scott Martin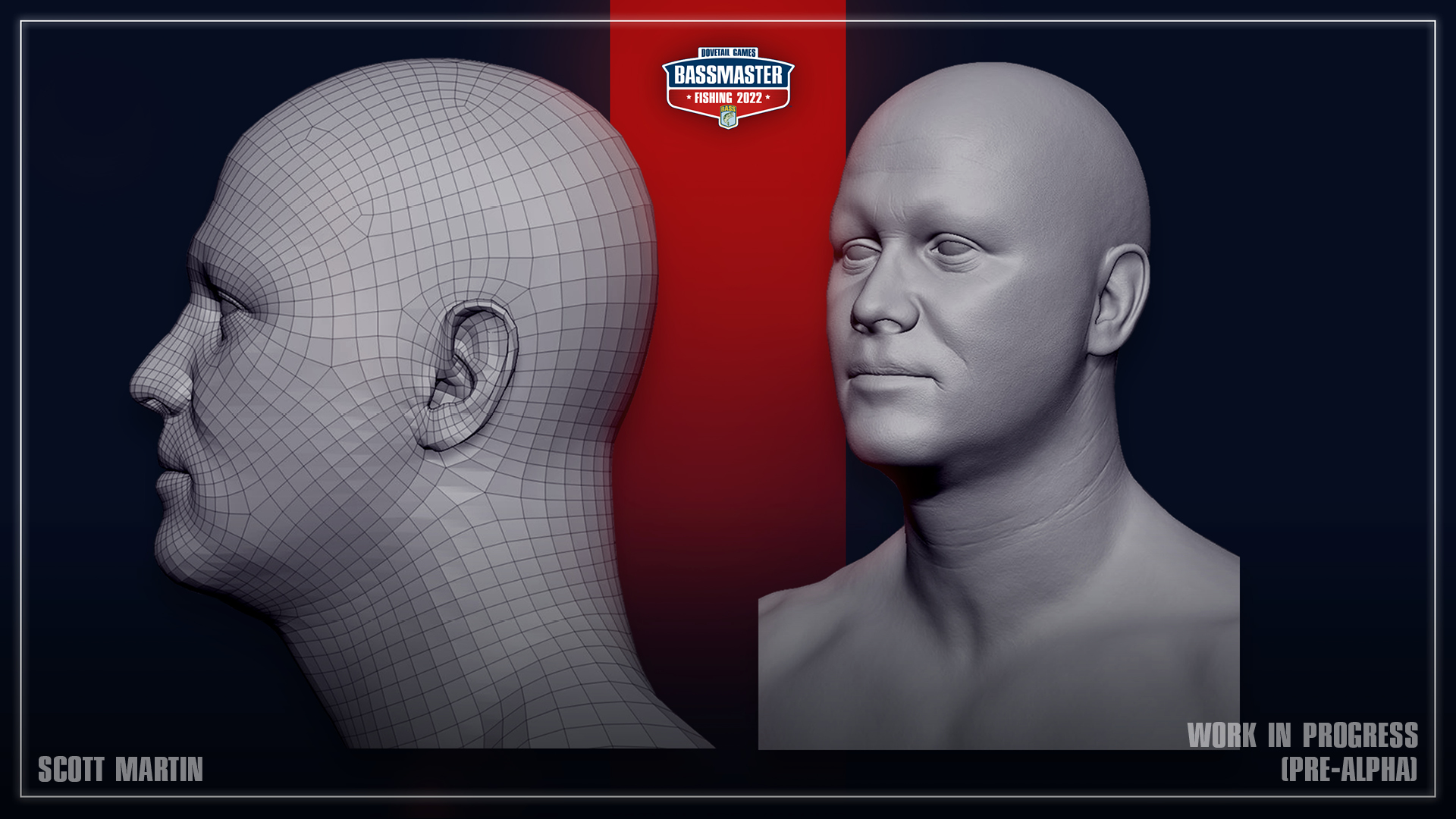 Once these fundamentals have been worked on, the team then needs to move onto other important tasks such as textures. Textures are key to making equipment, clothing, and faces look natural in game. The work that goes into designing anglers also gets built directly into the game. We'll go into more detail at a later date about the customisation options you'll have when making your own angler in game.
Facial Features
When we put our anglers out onto the water, that's when the fun really starts. We need to make sure the environmental lighting works with our 3D models. Lighting is a task that the team is working on at the moment - and you can see that, at this stage, things are not quite there yet! This ensures that shadows, highlights, and textures look as accurate as possible. Using Unreal Engine 4.26 gives the team a full host of new tools to work on throughout the development process, which we'll be talking about more in the coming weeks.
Working with the environment
We know how important your tournament jerseys are so, Bassmaster® Fishing 2022 has multiple professional jerseys to pick out that make your angler look like a pro. We make the jerseys and work with our partners to include their logos, so you can expect to see some of your favourite brands represented when you target your first Bassmaster® Classic win!
Tournament Jersey
We will have future updates on the progress the team is making with our anglers. Keep your eyes peeled to see who's next!
If you don't want to miss any info on our anglers, equipment, and venues then make sure to -
Bassmaster Fishing 2022
1y
Scott Martin in-game - Bassmaster® Fishing 2022