Bassmaster Fishing 2022
Fish AI System - Bassmaster® Fishing 2022!
In Bassmaster® Fishing 2022 we have been working with the pros to bring you a new next-gen Fish AI system. Today we are going to dive into how this works, and what tools you'll have to hand to help scout out the waters and catch the biggest bass.
Working with the experts
Just like in real life, there are multiple variables that you'll need to study and keep an eye out to get the best success when fishing. The development team has been working closely with freshwater biologists around the venues from the game.
As well as gathering accurate scans of the water depth, we have been gathering data about the species, fish weight and fish population in the different venues that feature in the game. This means that you'll have the most accurate experience when you venture out on your boat.
Points of interest
Venues in Bassmaster® Fishing 2022 have points of interest dotted around above and beneath the water. You'll have structure such as pallets and trees that make hotspots for fish to gather around. You'll want to explore the venues outside of tournaments and practice fishing at different times of day, different temperatures, and different locations.
The fish are getting smart
Our Fish AI system takes multiple elements and dynamically moves the fish around the venue. Fish have hundreds of paths that they will follow between different points of interest in the water.
It's important to move around as the time-of-day changes because a spot that was once thriving with bass at midday won't be the same at different temperatures and different times in the day. This AI system mimics real life, so if you have any experience fishing in real life, that will help you here! But don't panic if you don't, we have lots of tools to help you find the fish. Below you'll see a visual example of lines through the water that connect points of interest that the fish will move between.
Finding those hawgs
You'll have a variety of tools at your disposal to help when finding and tracking big bass. First of all, onboard your boat you have a fish finder, so while you're driving your boat around the venues, you'll get readings on the size and population of fish around the boat. This is really helpful if you are fishing on a new venue for the first time, as you'll be able to locate hotspots in the water and start hooking some bass.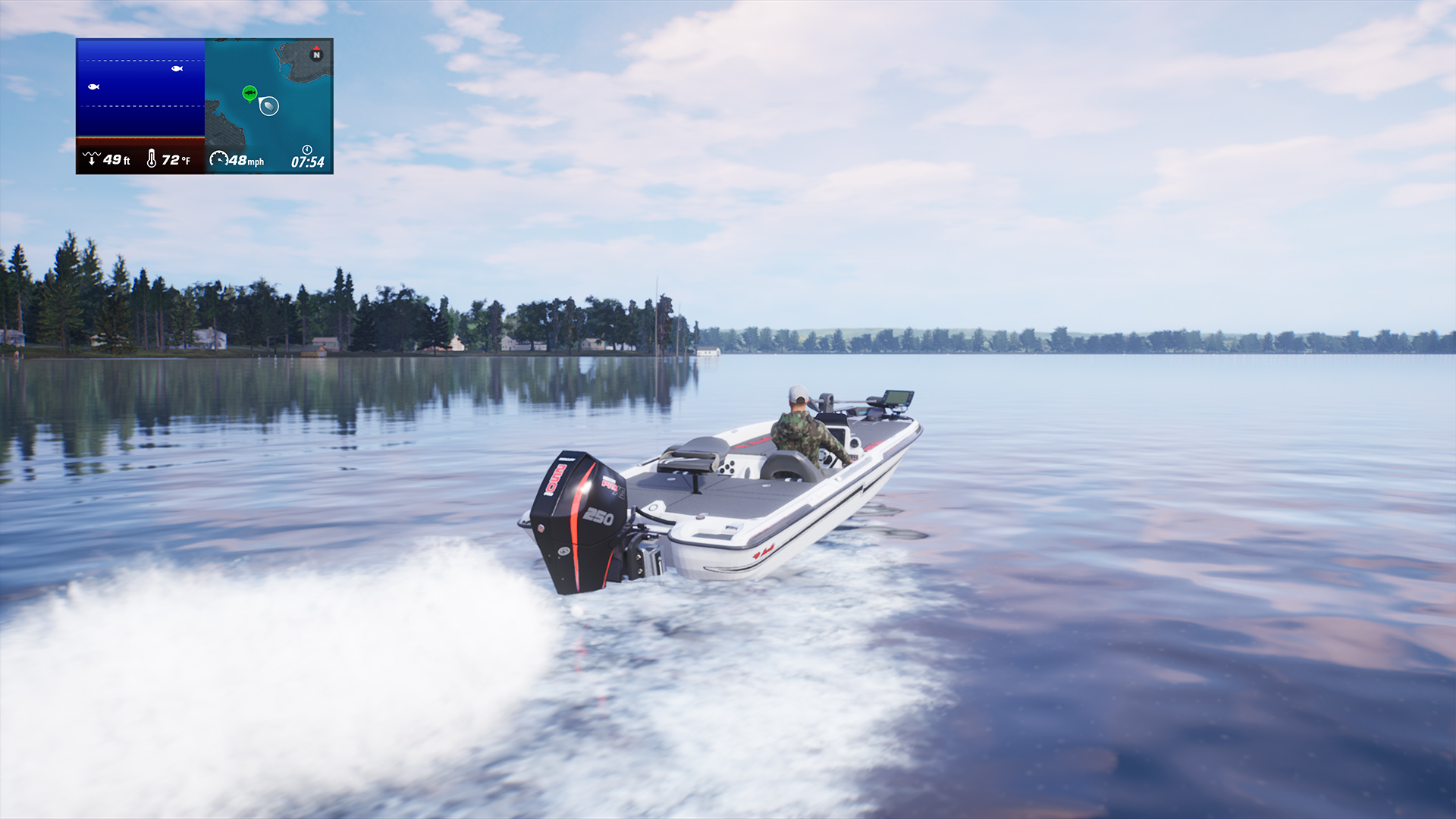 Fishing from a new perspective
The underwater camera is a great way to find points of interest and to get a close-up look on the fish. While fishing you can toggle between underwater and over-shoulder camera angles on the fly, which is great if you like to mix it up while fishing and see the position of your rod. This is useful too if you're using the trolling motor and need to check where you are going. The last thing you want to do is crash into something!
But if you don't want to use the camera at all, that's ok too and you can switch it off completely in the menu settings.
Come back later
Once you have found a great spot to fish you can mark it up with the new map marker system. This allows you to mark a point on the map, select an icon and add some text to the tag such as the time of day. Once you add a marker it will also mark other useful information that you can refer to next time you look at your map.
This is great if you are practicing out on the water and want to mark up a spot to come back to during a tournament. This is why it's so important to learn the venues before you compete, to make it to the Bassmaster Classic you need to know where the big bass are!
Using all the tools at your disposal, practicing, tracking on different venues, and marking it up on the GPS will help you climb the leaderboard and strike those big bass.
If you want to be in with the chance of winning a Digital Deluxe Edition of Bassmaster® Fishing 2022, then hit the link below to enter! To keep up to date with everything Bassmaster® Fishing 2022, sign up to our info packed newsletter or follow us over on our socials so you don't miss a drop of info.
Bassmaster Fishing 2022
2y
Fish AI System - Bassmaster® Fishing 2022!